I don't need to tell you how much the world can change in 45 days. The speed at which the world as we know it is changing is astonishing. One thing that isn't changing is our enthusiasm to deliver credible analysis for our clients while simultaneously providing guidance to our colleagues. Every day, our team has been diligently working to overcome these latest challenges and, rather than wringing our hands in fear, we've adapted our standard process in real-Covid-time.
By addressing the key areas that now take on heightened importance in current appraisal reports, Appraisers can stay relevant and viable in this ever-changing market. Together we can come out of this stronger by remaining positive and taking the actionable steps outlined in this article. Being proactive in this way produces feelings of joy and excitement. It also gives us the confidence we need as key players in the industry to bury feelings of doubt, worry, and uncertainty. Let's put frustration aside and dive in!
Key Language in Letter of Transmittal
It is important for the appraisal to recognize COVID-19 and introduce the situation in the Letter of Transmittal. We are acknowledging COVID-19 with prominent language in the letter of transmittal of each appraisal report.
It is also important to remember the significance of the effective date of the appraisal. We reference two important points – Guide Notes 10 and 12 from the Appraisal Institute – which are as follows:
The analysis is being performed with as much current information and market feedback as possible. However, the appraiser can only work with what is available.
The client should be clear that the appraisal is performed at a point in time and that the market value opinion is – as of a certain date – the effective date. Changes after the date may affect the value. Analysis is being performed as quickly as possible to measure the impacts, if any, to the subject's market as a result of this event.
Regional Analysis is Relevant
Let's be honest, this section of appraisal reports is often glazed over and has less relevance in a "normal" market. In a normal market, biannual/annual revisions of regional/local market report sections are sufficient. When significant market uncertainty occurs from events such as COVID-19, regional/local market report sections require daily/weekly revisions to provide perspective of pivoting market responses until the 'storm' passes. We are doing our best to stay on top of this.
Some key areas we are tracking include unemployment data and the impact of significantly-reduced restaurant, service, and entertainment options as it relates to the specific property type.
Here is a brief overview of the latest unemployment figures:
Minnesota's unemployment rate held steady at 3.1% and U.S. unemployment increased to 4.5% on a seasonally-adjusted basis in March. These estimates reference the week including March 12th, which was the week prior to any temporary COVID-19 restrictions on businesses. It's important to note that March employment numbers don't reflect the significant impact COVID-19 has had on Minnesota employment in the past 30+ days.
A better reflection of the current unemployment situation is provided by the following data from the Economic Policy Institute.
Initial unemployment insurance claims filed in Minnesota during the week ending April 11, 2020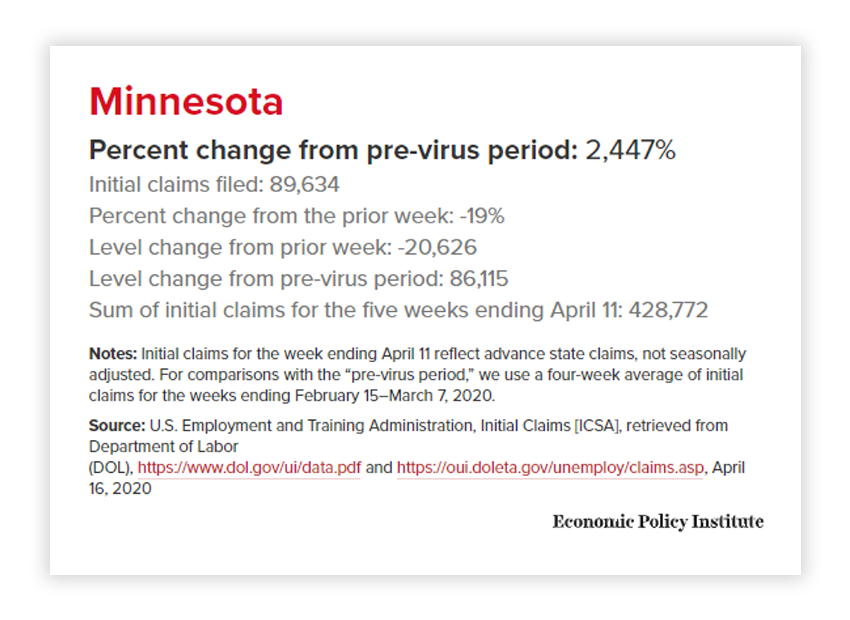 It is important to note that both the local and national economies are undergoing unprecedented changes due to the constantly changing impacts of the COVID-19 pandemic. As of March 2020, total Minnesota employment was 2,977,856 people with a 3.1% unemployment rate or 95,278 people unemployed. The sum of initial claims for the five weeks ending April 11th implies an approximate unemployment rate of about 15% in Minnesota.
Given the current local, national, and global impact of the COVID-19 pandemic, the short-term outlook over the next three to four months is expected to be volatile and bleak with several industries experiencing record levels of job layoffs, forced business closures and decreased consumer spending. The economic recovery timeline is partly dependent on how long businesses are forced to remain closed and stay-at-home policies are enforced.
Minneapolis & St. Paul COVID-19 Market Analysis
Real-time and property-specific conversations and exchanges are of primary importance in keeping available data 'fresh.' Here is what Simonson Appraisals is doing during the eye of this valuation storm.
Adopting a 'forge ahead' mentality and recognize that collecting and reporting insights from 'boots on the ground' CRE members is critical.
Augmenting normal processes of research through national market participant platforms and connections.
Our appraisal team has listened and watched multiple CRE and appraisal-related webinars, and had many discussions with our clients and market participants. Some of these include:
– RICS Webinar – 39 countries attended
– Appraisal Institute April 17, 2020 Valuation Webinar – 22,000 participants attended
– Real Estate Journal April 7, 2020 Webinar titled: Economic Rollercoaster – Finding Opportunity During a Bumpy Ride with Dr. Mark Dotzour
– Appraisal Institute March 23, 2020 Webinar
Simonson Appraisals developed a COVID-19 Market Conditions Analysis tool in collaboration with one of our national bank clients to provide meaningful analysis and greater confidence in our conclusions.
Our company has received positive feedback on how COVID-19 is being addressed in our analysis. The following is an example of how we used our COVID-19 Market Conditions Analysis tool to compile relevant data for an industrial property assignment in the Minneapolis/St. Paul metropolitan area.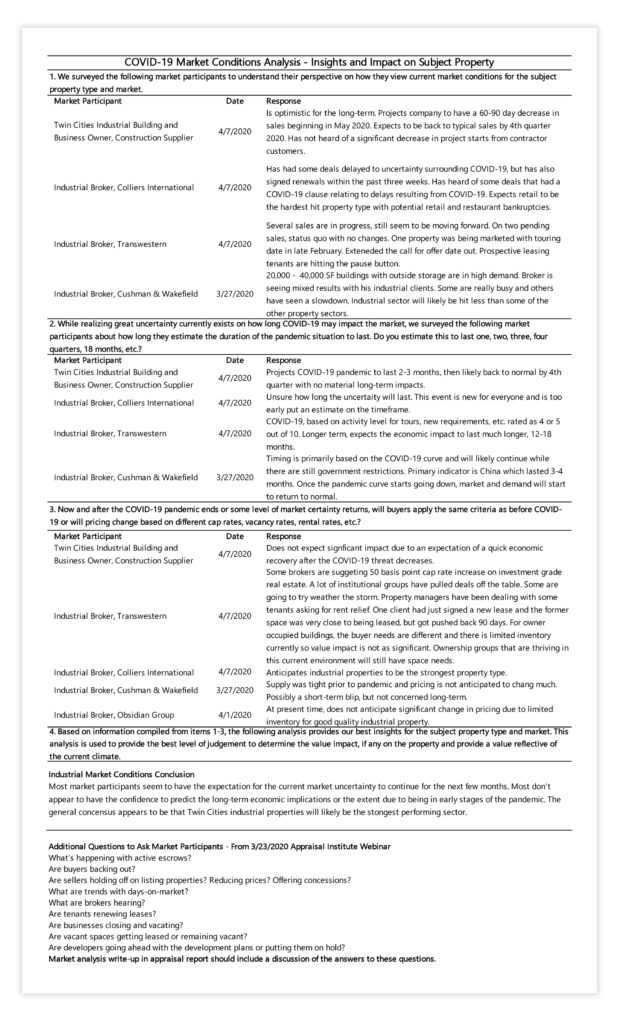 This COVID-19 Market Conditions Analysis framework is helping us form reasonable conclusions considering current market circumstances. This analysis is then carried through the valuation approaches. If you have any questions or would like to discuss the topics covered in this article, please contact us today!