With rising inflation and multiple interest rate increases in 2022, both are hot topics impacting the commercial real estate industry. We share our latest findings which help ensure we continue providing credible appraisals and valuations.
Inflation and Interest Rates
Inflation is running at more than a 40-year high with the July 2022 Consumer Price Index increasing 8.5% over the past year. In an effort to tamp down inflation, the Federal Reserve has responded aggressively with four interest rate hikes (the latest two of which were the largest hikes in three decades). The Fed has lifted its benchmark overnight interest rate by 225 points this year to a target range of 2.25% to 2.50%. The more rates rise, and the longer inflation stays elevated, the more likely a recession.
How does this impact commercial real estate? The increase in interest rates has slowed real estate transaction activity as lenders tighten up lending and borrowers adjust to new financing terms.
Lender Underwriting Tightening Due to Higher Costs of Capital
Commercial real estate transactions are typically a lagging indicator of the market given the length of time required to close. Conversations with several active market participants indicate the access of capital is more difficult at present time. We've heard of transactions being repriced or falling apart in the past 45-60 days.
With growing market uncertainty, commercial real estate lending in the second half of 2022 is expected to slow as lenders respond to higher interest rates by pulling back.
Others are still lending but seeking to minimize risk by requiring borrowers to put more cash into deals (lower LTVs). Another topic being discussed is lenders are increasingly concerned about maturing loans and whether borrowers will be able to afford to refinance at higher rates.
CRE Investment Climate Forecast
Up to this point, commercial real estate has been mostly insulated from the recent inflationary reactions. While the Green Street Commercial Property Price index shows that current month-over-month prices have fallen for most property types, all property types but office show gains over the past year. Mall and office properties are the only property types to show a decline in prices since 2020.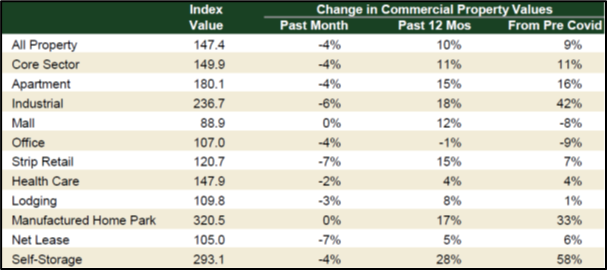 The following chart also demonstrates that, while prices for commercial real estate are undergoing a correction, the CPPI is still at all-time highs.
Capitalization rates are linked to interest rates, but the relationship is not necessarily a simple, causal one. An article from The Linneman Letter (Vol. 20, Issue 3), published in Fall 2020, argues that interest rates are less predictive of cap rates than the availability of funding. Given the strong underlying fundamentals for most property types, this relationship will help CRE resist some of the effects of inflation and higher interest rates.
Transactions in the second half are likely to continue the cooling trend as buyers pull out of deals either because of higher borrowing costs or to hold off in case property prices fall as valuations catch up with changing market dynamics.
Conclusion
The second half of 2022 will likely be choppy especially with the expectation of several more interest rate hikes. Valuations in this phase of the real estate cycle demand extra vigilance to balance the current relatively healthy market fundamentals and the impact of interest rates and available capital on property values. While it's challenging to predict and analyze the immediate impact inflation and changing interest rates will have on commercial real estate, appraisers will continue to provide boots-on-the-ground research and analysis, and continue to adapt as the market changes.