"No news is good news" is more than just a saying. It's the outcome we strive for following the appraisal process. As an appraiser, it means we nailed that sweet spot and produced an accurate appraisal. The sweet spot is not a predetermined number or target, but rather a number that is within a comfortable and reasonable range of value – not too high or too low. This is good for the buyer, the seller, the lender, and the appraiser. It is really good for the appraisal review department. This means their work is done and they can rest easy while feeling confident that the appraisal report supports the market value conclusion. If we can deliver an appraisal report that meets all the requirements, is reasonably supported and clarifies any potential questions about the property, market, or value – minimal feedback between the appraiser and review appraiser is needed and everyone wins.
Fortunately, most of our appraisals fall in the sweet spot and we never see them again.
However, high accuracy rates on appraisal reports are easier said than done. Sure, you'll probably find that most appraisal firms produce adequate appraisal reports during times of stability, but throw a significant event like COVID-19 and economic uncertainty into the equation, and suddenly your average appraisals aren't up to par. For the appraisal department review staff, it means additional work with extended review time, back and forth communication, and lower overall comfort level with the value. These are the kind of appraisals that give me a heartburn feeling. At Simonson Appraisals, we understand the importance of the reports we create and have worked hard to build a reputation as a firm who consistently produces accurate appraisals, no matter what the markets are doing.
Our Experience in Delivering Accurate Appraisals During Economic Uncertainty
Since we deal in educated opinions on a daily basis, it would be arrogant to claim all of our appraisals fly through the review process with no questions or differing opinions. The more complicated the market conditions and the property in question, the more challenging it can be to always provide the necessary support or analysis to eliminate feedback. In a bear market, appraisals tend to be scrutinized more closely (and rightfully so). Overall risk is higher for the bank in these circumstances due to economic factors which can lead to changing property values and potential risk of tenants or borrowers having revenue disruptions that impact their ability to pay their rent or their mortgage. Other risk factors we carefully consider include rising vacancy rates, cap rates, and lower rental rates. Reduced buyer demand can also impact pricing.
For the buyer/borrower, major market events can mean greater uncertainty, potential timing delays, or having to increase the down payment if the value is different than originally expected. These factors affect the seller and lender as well. While some of these factors are outside the control of the appraiser, it is important to stay on top of the latest trends impacting value. This is why choosing the right appraisal firm really pays off.
The right appraisal firm knows how to focus on providing a value that is in the sweet spot regardless of market conditions. Of course, it is easier in times of market stability than it is during times of turmoil. A great appraisal firm will adapt and utilize multiple strategies to continue providing credible value opinions.
Thankfully, our hard work at Simonson Appraisals nearly always pays off. Within just the past month, several clients completed appraisal reviews with no feedback for us (picture the appraiser saying YES with a silent fist bump!). When we do hear back from a client with a different opinion regarding our valuation, it's vital for the appraiser to maintain an open mind and listen to the other point of view. It is also important to remain independent, impartial, and objective no matter which direction the client or outside influence is angling towards. With an open mind and further analysis, we can appropriately address the different thoughts and perspectives regarding the value of the properties in question.
Another strategy that has contributed to our current success is continuous learning, staying on top of the latest trends, and making sure we understand how these trends will impact our reports. Over the next 90 days, we're excited to be participating in three real estate webinar speaking events where we'll share our best insights together with other key industry players. With much market uncertainty stemming from the events of the past few months, the commercial real estate industry is seeking to understand how firms like ours are handling appraisals. Participating in events like these, striving to maintain open dialogues with our clients, and constantly verifying market data allows us to be confident that our appraisals continue to be fair and accurate in the best and worst market conditions.
Bottom Line
No matter what the market is doing, we aim for a no-news-good-news report. Our job as appraisers has two parts. One is to determine a property's value or values. The other is to justify our findings through concise and thorough appraisal reports. If we can deliver a credible appraisal report that meets all requirements, is reasonably supported and mitigates any potential questions, then minimal feedback between the appraiser and review appraiser is needed. It's a win-win and everyone parts with the satisfaction and confidence of a job well done.
Mitch's Mojo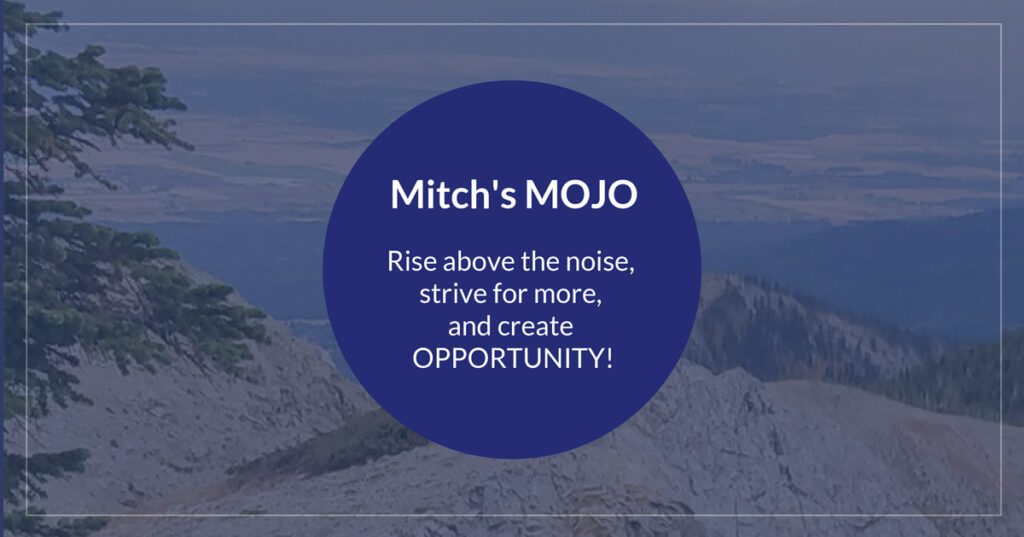 Amidst the national and world chaos in current times, an excellent interview I listened to awhile back has been on my mind lately. The two key points were "Think like an Immigrant" and "Be Hungry". There is a lot of noise today among Americans that could lead you to believe (if you let it) we live in a country with reduced opportunities. Rise above the noise, strive for more, create OPPORTUNITY! When others say you can't do something, use that as motivation to drive beyond that restricted belief and continue towards the goal that you are reaching for. Do something Awesome Today!
Mitchell Simonson, MAI has been in commercial real estate for 16 years and founded Simonson Appraisals on January 1, 2019. Mr. Simonson enjoys writing about and discussing commercial real estate, personal development and business. Do you have questions on these topics? Contact him today!