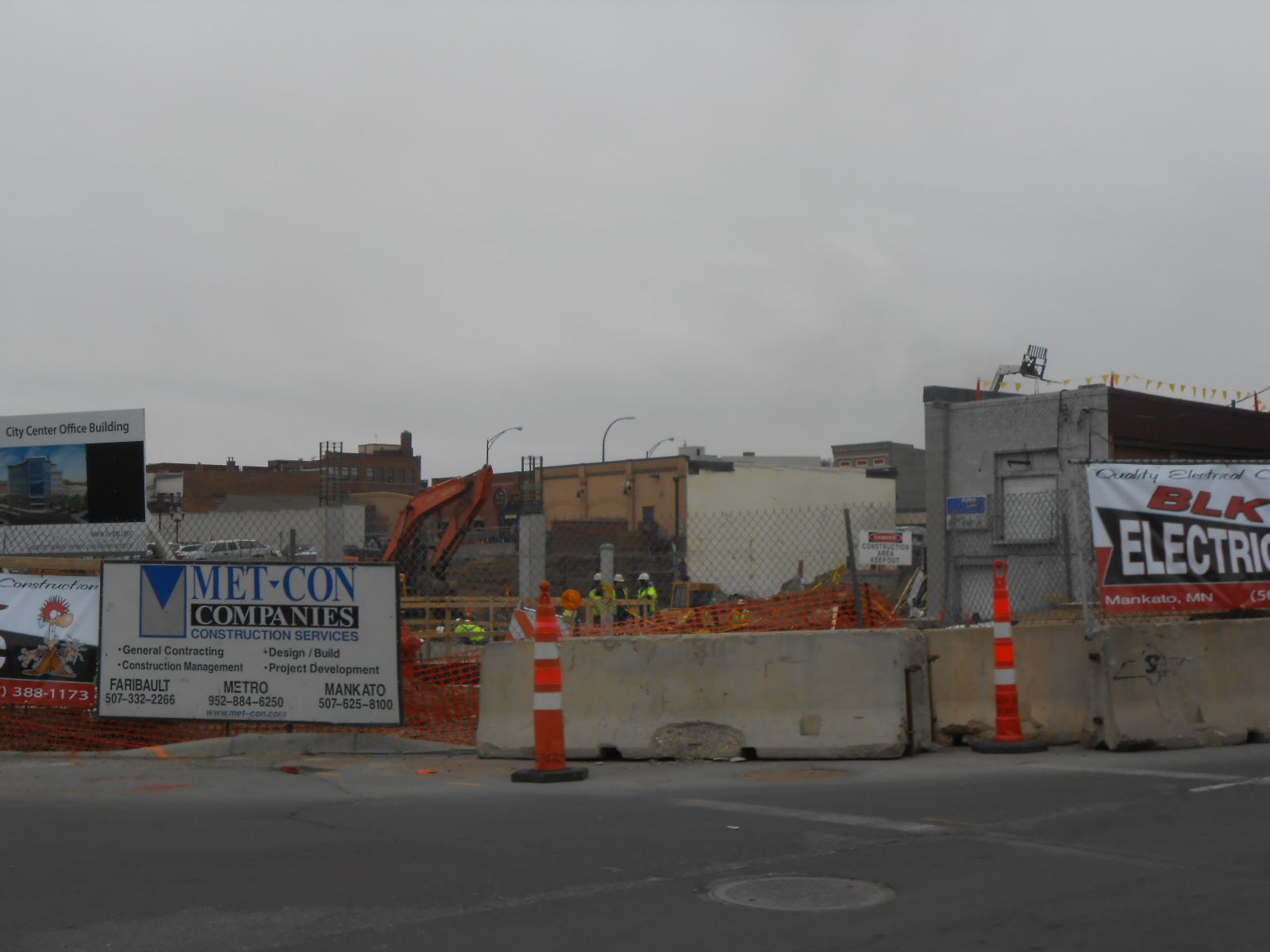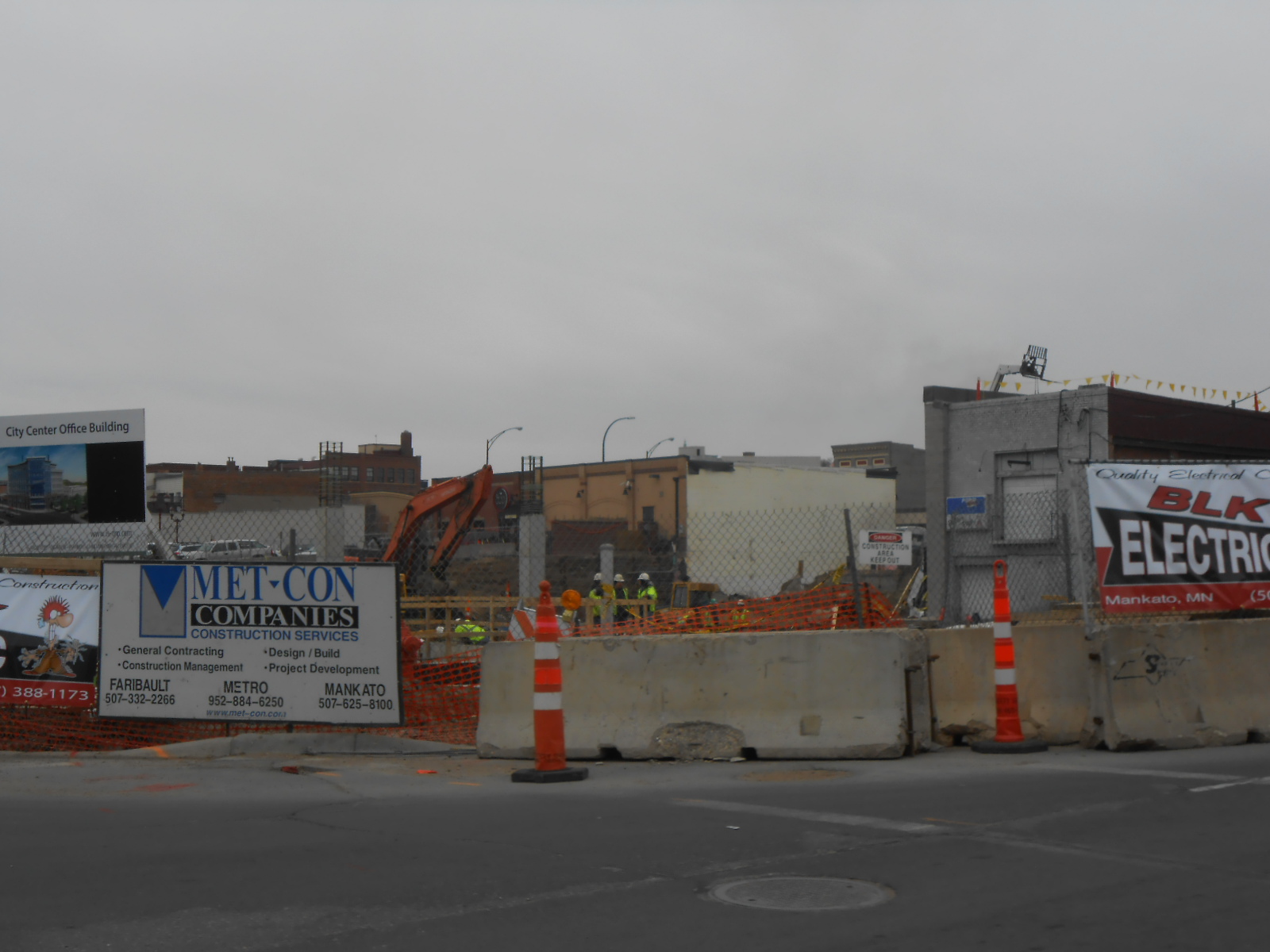 Photo taken while Profinium Place office tower was under construction
Several market participants including building owners, government representatives, developers, and brokers shared good insight into past, current and future projections regarding commercial real estate in the Mankato-North Mankato Metropolitan Statistical Area. The seminar was called the Mankato Real Estate Investment & Development Summit and it was held at the Golden Valley Country Club. Thanks to the Minnesota Real Estate Journal and Jeff Johnson for another successful event. The panel speakers discussed
Tailwind Group
Expansion and Growth of Real Estate in Greater Mankato Region
Greater Mankato Real Estate Trends
Investment Opportunities
This article provides a synopsis of the main topics.
Tailwind Group
The event started with a short interview of the fast growing commercial development firm Tailwind Group, based in Mankato. Kyle Smith, at about 21 years old started investing in rental housing around Minnesota State University, Mankato. Thirteen years later, through a series of well-timed moves and self-admitted luck, Tailwind Group was able to leverage the growing portfolio into developing several student housing complexes and a few retail strip centers.
More recently, Tailwind Group was the lead developer behind two new Class A office buildings (Profinium Place and Block 518) built in downtown Mankato in the past two years. Both have reportedly been pretty successful in the lease-up phase and the lease rates required a significant stretch from office rates historically achieved in the Mankato market. Some of the tenants are investors in the building and net lease rates have been $17.50 to $21.00 per square foot, net.
Expansion and Growth of Real Estate in Greater Mankato Region
The Greater Mankato region includes Blue Earth and Nicollet counties (Mankato-North Mankato MSA), as well as the adjacent community of Le Sueur. The Mankato-North Mankato MSA was upgraded from a Micropolitan Statistical Area to a Metropolitan Statistical Area (MSA) by the Office of Management and Budget on November 20, 2008. According to Jonathan Zierdt, President & CEO of Greater Mankato Growth, this has led to increased state and national exposure. With a population approaching 100,000 people, the economy is also strong at present time. Employment growth has reportedly increased month over month for 36 consecutive months.
The economy in Mankato MSA has a diverse employment base and this leads to greater long term stability. Major employment sectors include manufacturing, health care, and agribusiness. A recurring theme among all panelists was the strength of agribusiness in the Greater Mankato region.
Higher education is also noted as being a strong influence on the community. Five colleges and universities include:
Minnesota State University, Mankato – Approximately 16,000 students and offering bachelor's, masters and applied doctorate degrees, as well as undergraduate and graduate certificates and associate and specialist degrees.
South Central College, North Mankato and Faribault – More than 6,000 students and offering associate in arts degree in liberal arts and science that allows students to take first two years of a bachelor's degree as well as 50 career and professional majors
Gustavus Adolphus College, Saint Peter – Nearly 2,500 and offering 75 majors and 16 pre-professional programs
Bethany Lutheran College, Mankato – Nearly 600 students and offering 19 Majors and 8 pre-professional programs
Rasmussen College, Mankato – Approximately 650 students
Greater Mankato Real Estate Trends
Multifamily housing is the predominant driver of development right now. About 1,000 units have been built in Mankato over the past few years. The Mankato City Manager estimated about 80% has been general market rate housing.
With the continued employment growth of Cambria, the City of LeSeur has identified lack of housing is a need to fill.
Mayo Clinic recently purchased 18.5 acres in North Mankato with plans to construct a medical facility.
Data Center opportunities exist and national interest is expanding to the Mankato area as different groups seek to meet their data center requirements.
The Greater Mankato area is seeing more industrial investor opportunities where developers are building and leasing. This reflects a transition from historically being owner occupied. The website Greater Mankato Pipeline provides good detail into recent and pending development projects in the Greater Mankato area. Since 2012, about $500 billion in construction costs have been reported. Construction activity has been strong and included all property types including retail, office, student housing, market rate apartments, and single family residences.
School bond referendums have passed over the past few years in St. Peter, Mankato and Lake Crystal. City economic development officials indicated this enhances the ability to attract more executive level skill positions. Growing employers report being able to attract, retain and recruit executive level employee talent is a challenge for the Mankato MSA.
Bank branch property development has been steady in Mankato area.
Mayo Clinic medical division in Mankato has benefited the area with increased income levels, etc.
Investment Opportunities
A few of the commercial brokers indicated the multi-family housing market may be nearing the point of saturation.
Retail – unless a Grade A location, retail demand has started to slow.
Industrial warehouse demand remains strong.
The 450,000 square foot Walmart distribution center has plans to double in size in next few years.
Some office vacancy exists, particularly in the Class B+ space left empty as former occupants vacated and moved to the newer Class A office towers recently constructed.
Investment sales activity has been very strong over past few years.
Generally speaking, Mankato brokers report capitalization rates tend to average around 8.0% and can range up to 10%-11%. Some cap rates on the newer multi-family developments may trend lower and approach 7.0%.
Most investment capital in Mankato is from Mankato and greater MN area.
A local developer/builder stated labor tends to be a little less than national cost data sources suggest for Minnesota.
As a growing metropolitan area, with some larger employers, it will be interesting to see how future economic downturns impact the Mankato-North Mankato MSA.
Mitchell Simonson, MAI is an expert commercial real estate appraiser and investor. Appraisals have been performed in the Greater Mankato area across multiple property sectors including office, retail, market rate and subsidized apartments, student housing and industrial buildings. Thank you for taking the time to read this article. If you have any valuation questions, please feel free to call at 612-618-3726 or email mitch@simonsonap.com.
Best Regards,
Mitchell Simonson, MAI